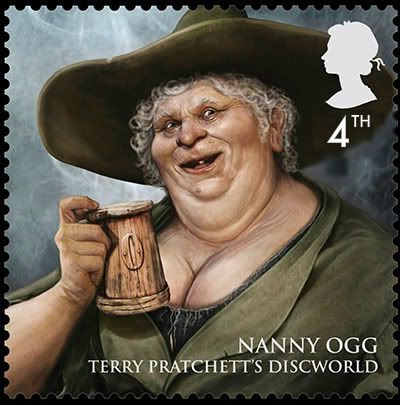 As you might have noticed November was an extremely quiet month as far as reviews went. The reason for that is that I spent most (OK, all!) of my reading time on reading Terry Pratchett's Discworld novels. You see, the devious minds over at the South African Book Lovers group on Goodreads devised a great
Terry Pratchett reading challenge
which kicked off in November. I'm a sucker for a good challenge and I got a bit
obsessed
carried away...
The challenge consists of 40 tasks which need to be completed by a team of four. Each team member has to complete 10 tasks which count towards their team total. The first team to finish all 40 tasks wins. In order to complete the challenge on an individual basis you need to complete 25 tasks. For every 5 tasks completed the team is awarded a Discworld themed card and individuals earn stamps as rewards.
I'm on my fourth stamp now, which means that I've read a total of 21 Discworld novels during the month of November. My team, The City Watch, is also leading by a mile with a total of 32 points (the team in second place only has 15 points). Not bad if you consider the fact that the challenge was supposed to last for a year!
Unfortunately this obsession left little time for anything else. Sanity has finally returned and with a bit of luck I'll be able to catch up on my review backlog now.